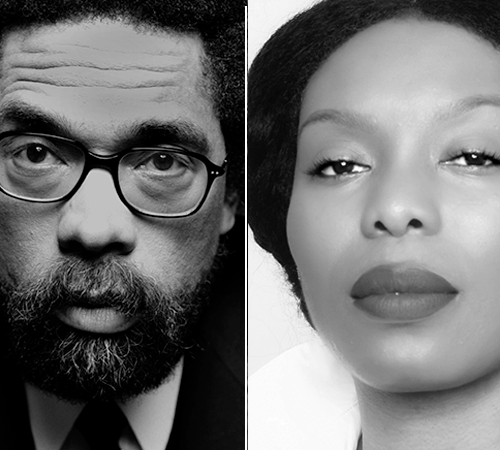 Cornel West and Ifeoma Ike
About Cornel West and Ifeoma Ike
Dr. Cornel West, affectionately known to many as Brother West, is the Dietrich Bonhoeffer Chair at Union Theological Seminary. Dr. West teaches on the works of Dietrich Bonhoeffer, as well as courses in Philosophy of Religion, African American Critical Thought, and a wide range of subjects—including but by no means limited to, the classics, philosophy, politics, cultural theory, literature, and music. He has a passion to communicate to a vast variety of publics in order to keep alive the legacy of Martin Luther King, Jr.—a legacy of telling the truth and bearing witness to love and justice.
Dr. West is the former Professor of the Practice of Public Philosophy at Harvard University and Professor Emeritus at Princeton University. Cornel West graduated Magna Cum Laude from Harvard in three years and obtained his M.A. and Ph.D. in Philosophy at Princeton.
He has written 20 books and has edited 13. He is best known for his classics, Race Matters and Democracy Matters, and for his memoir, Brother West: Living and Loving Out Loud. His most recent book, Black Prophetic Fire, offers an unflinching look at nineteenth and twentieth-century African American leaders and their visionary legacies.
Dr. West has partnered with MasterClass.com to provide teachings on several influential courses including a class with Pharrell Williams on Empathy,  MasterClass's first-ever multi-instructor class on Black History, Black Freedom & Black Love, as well as Dr. West's standalone class on Philosophy. Visit www.cornelwest.com and click on the MasterClass banner to learn more.
Ifeoma Ike, Esq. is an award-winning advocate, writer and policy advisor focused on designing solutions to address disparities. A graduate of CUNY Law School, Ike embodies the motto "law in service of human needs," and has dedicated most of her career to advancing equity in spaces where marginalized lives dare to exist and live fully.
Some of the efforts Ike has co-engineered include Just Leadership USA and Mass Bail Out NYC; as well as the formation of three congressional caucuses: Caucus on Black Men and Boys; Caucus on Black Women and Girls; and the recently-launched Caucus on Black Innovation. A movement lawyer, Ike has been a policy advisor regarding human rights violations in Haiti, mistreatment of Afro-Columbians and non-consent medical practices on the continent of Africa. Ike was part of the Ferguson Legal Defense Committee following the murder of unarmed Black teenager, Mike Brown, Jr. During the Flint water crisis, Ike supported local organizers' development of policy and civic responses. Understanding the role policy plays in the everyday lives of communities, Ike has co-drafted several pieces of legislation, including the federal End Racial Profiling Act and Reparations Bill (HR40).
As COVID-19 exposed old and new disparities, Ike's social impact firm, Pink Cornrows, co-created sustainable solutions that included serving as policy advisors to the National Birth Equity Collaborative, leading the equity framework for the Rockefeller Foundation's multi-city vaccination effort, and conducting research exploring the relationship between the pandemic and gun violence. Pink Cornrows also launched COVID While Black, a research and culture project centering the lived experiences of Black lives and the continued failures of our healthcare system, as well as honoring those who have transitioned. The team also continued offering their annual Black Policy Lab, which centers collaborative policy creation, skills sharing and joy.
Ike's prior experience includes serving as New York City's Executive Deputy Director of the Young Men's Initiative, being a Senior Policy Advocate with the Innocence Project, providing counsel to the US. House Judiciary Committee, and being a researcher with the American Bar Association. Ike has also been an adjunct at Lehman College and a media contributor to MSNBC, CNN, PBS, NewsOne, HuffPost and Cosmopolitan.
As the first Black board member of the Women's Prison Association, Ike and other board members led the internal culture shift to better meet the needs of Black and brown women impacted by the criminal legal system. In 2021, Ike became the first member of New York City's Conflict of Interest Board to be appointed by the Office of the Public Advocate.
Ike holds a LL.M. with highest honors from The George Washington School of Law and J.D. from CUNY School of Law, where she specialized in mediation and conflict resolution. Ike earned her M.A. and B.A. in Communication Theory and Research as a Storer Scholar at West Virginia University.
Forums with this speaker